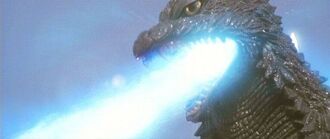 | Name | Radioactive ray |
| --- | --- |
| Alternate names | Atomic ray, Radioactive fire, Blue Heat ray, Atomic breath. |
| Class | Energy beam |
| Users | All Godzillas, Minilla, Godzilla Junior, Megaguirus (With Godzilla's energy). |
| Color | && |
| Similar abilites | Spiral heat ray |
The Radioactive ray is the signature weapon for Godzilla in all series.
First, he charges energy and his dorsal fins begins to glow and then he fires a energy beam from his mouth and push,damage or kill the opponent.
Variations
Edit
Spiral heat ray-a more powerful version used whenever Godzilla has Rodan's energy or has getting stronger.
Super Spiral heat ray-the second version of Spiral heat ray.
Smoke rings-an weak version used by Minya.
Energy bubbles-an weaker attack used by Godzilla Junior as Little Godzilla.
The radioactive beam in the first movie is more smoke-like.
The only monster besides all Godzilla's who is using the ray is Megaguirus.
In Godzilla vs. Destoroyah the beam is orange, but it is not a Spiral heat ray due to that the spirals are missing.