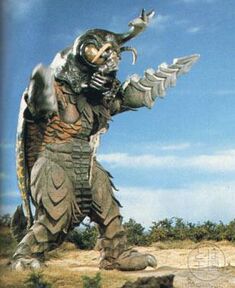 Name

Megalon
Species
Beetle/Cockroach God
Gender
Male
Eyecolor
Gold
Height
55 meters tall,
Weight
40 000 tons
Allies and enemies

Gigan (Ally)
Jet Jaguar (Enemy)
Godzilla (Enemy)

Abilites

Digging, lightning bolts from his horn, flight, speed, naplam bombs.

Portrayed

by

Hideto Odachi
Appearnace
Edit
Megalon looks like a hybrid between a cockroach and a rhinoceros beetle. He has an horn on his forehead and drills instead for hands. He has two toes on his feets and a short tail.
Godzilla vs. Megalon (Only movie appearnce)
He has only one movie appearnce, but many videogames appearnce.
In Godzilla Domination he is blue and has huge muscles.
Megalon might be one of the smartest kajiu's.
In Toho Kingdom Toon, he speaks with an german accent.